CoreOS Training in Chennai
CoreOS is a powerful Linux distribution built to make large, scalable deployments on varied infrastructure simple to manage. Based on a build of Chrome OS, CoreOS maintains a lightweight host system and uses Docker containers for all applications. In this series, we will introduce you to the basics of CoreOS, teach you how to set up a CoreOS cluster, and get you started with using docker containers with CoreOS.
What will you Learn :
CoreOS LinuxInstallation, Using etcd, Using fleet, troubleshooting
ImagesCreating and running containers
CommunicationPorts, filesystems, sockets, network devices
OperationRepositories, sharing images, best practices etc
Isolation TechnologiesNamespaces and cgroups
Prerequisites
    * Linux Foundation LFS101: Introduction to Linux
    * Linux Foundation LFS220: Linux System Administration
    * RHCE
    * Equivalent real­-world Linux experience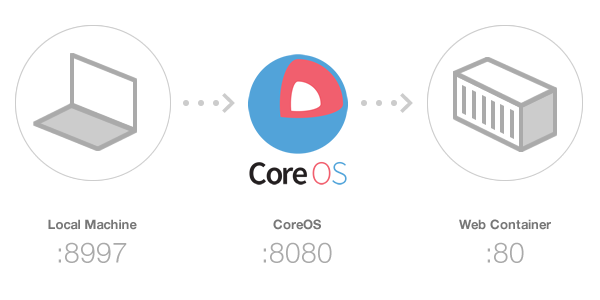 Course Contents
1. Introduction
Introduction

CoreOS And The Future Of Application Development

How To Access Your Working Files
2. CoreOS Basics
Application Containers

Docker

CoreOS
3. CoreOS Subsystems
Container Runtime

etcd

Fleet
4. Launching A Development CoreOS Cluster
Install Dependencies And Boot Your First Cluster

systemd

Starting Units with Fleet

Fleet Unit Templates

Global Units

Dockerized Service

etcd And etcdctl

Troubleshooting CoreOS Services

Toolbox
5. Deploying A Database-Backed Web Application
Service Discovery With etcd

Overview Of Deployment

Deploying RethinkDB Database

Deploying Web Application

Load Balancing With NGINX & confd

Load Balancing With HAProxy & confd
6. CoreOS In Production
CoreOS In Production

etcd In Production

Cloud-Config

Deploy CoreOS To Cloud Provider

Deploy App To CoreOS In Cloud

Scaling Up And Down

Monitoring CoreOS

Monitoring Containers

Centralized Logging
7. Advanced Topics
Firewalls, EC2 Security Groups, etc.

Oneshot Units For Configuration Management

Software Defined Networks – Flannel

Building On CoreOS
8. Kubernetes
Overview

Terminology

Installing On CoreOS

Create Pod

Create Replication Controller

Create Service

Create Public Service

Setup DNS

Setup Kubernetes UI
CoreOS Training in Chennai, 
info@bigdatatraining.in
Call – +91 97899 68765 / 044 – 42645495
Also  available in Bangalore, Pune, Hyderabad, Mumbai, Kolkata, Ahmedabad, Delhi, Gurgon, Kochin, Tirvandram, Goa, Vizag, Mysore,Coimbatore, Madurai, Tirchy, Guwahati.